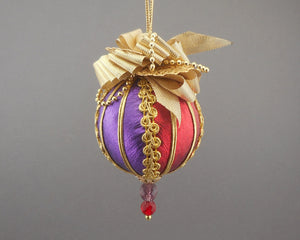 "Jules Verne"
Lamé Ball Ornament in Purple/Red
approximately 2 1/2" dia x 4 1/2" h

Towers and Turrets Ornaments have been sold in shops nationwide. They have been featured at the Philadelphia Museum of Art, the Pearl S. Buck House, Pittsburgh Center for the Arts, Byers' Choice Emporium, Victoria's Secret Fragrance Shops, and The Biltmore Estate.

Each piece begins with a styrofoam base, allowing it to be lightweight and durable, and is then covered with high quality dressmaker fabric. It is embellished with passementerie trimmings, lavish ribbons, and a selection of baubles, beads, flowers or feathers.

The collection is ever-changing, so please visit our shop to see current offerings and come back frequently to see new pieces. All ornaments are completely crafted by hand in our Philadelphia studio.

The ornaments you receive may not be the exact pieces photographed - they are handmade and each is unique.

If you would like more information, please feel free to contact us. Your questions are welcome and will be promptly answered.